NPC attended Japan-France Working Group on New Energy Systems
February 12, 2020
Our President & CEO Ito gave a presentation on solar panel recycling, explaining the situation of panel disposal in Japan, along with our original recycling equipment and our future outlook on constructing recycling frameworks
at the "Japan-France Working Group on New Energy Systems" (February 11 - 12, 2020) held in Grenoble, France by the Japanese METI(Ministry of Economy, Trade and Industry) and French DGE(Direction Générale des Entreprises).
At the working group, the 2 countries exchanged information on policies and situations regarding renewable energy.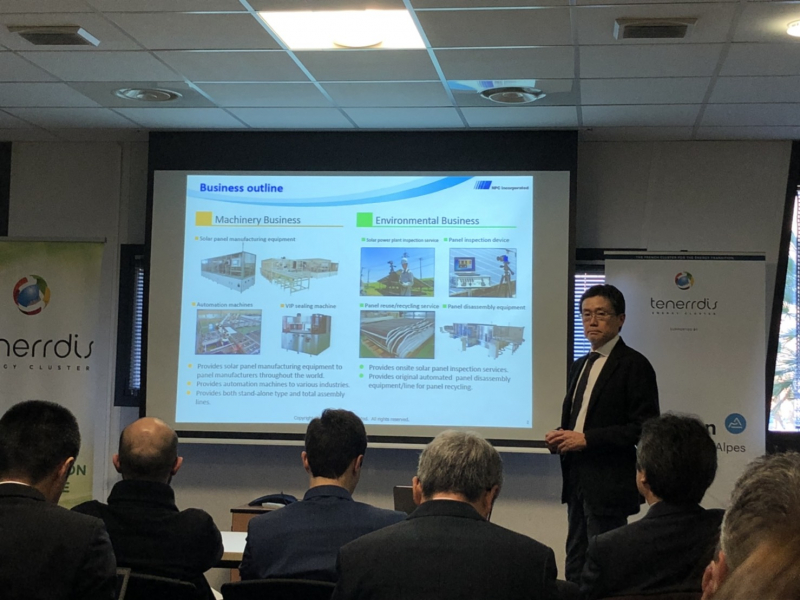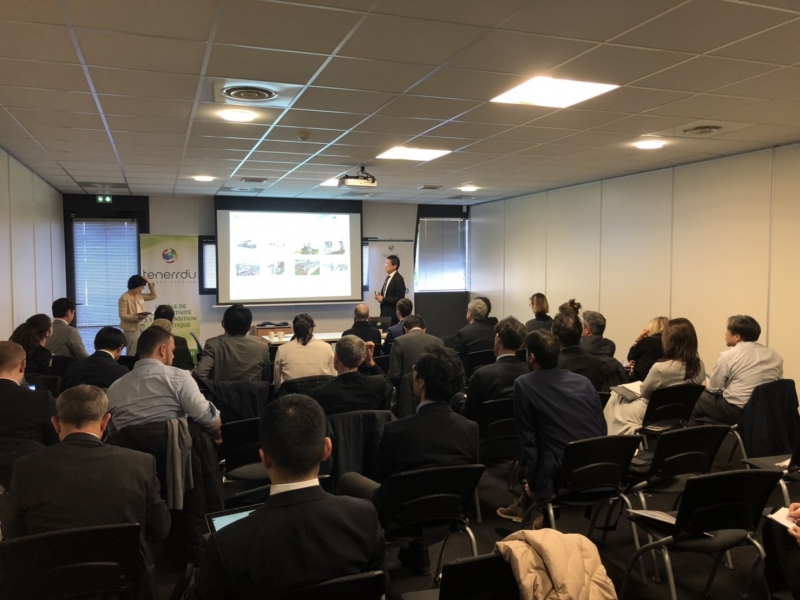 NPC attended EcoDesign 2019
November 27, 2019


Our Environmental Business division manager gave a presentation on our PV panel reuse/recycling at the 11th International Symposium on Environmentally Conscious Design and Inverse Manufacturing (EcoDesign 2019; November 25 - 27, 2019) held by The Union of EcoDesigners and National Institute of Advanced Industrial Science and Technology. After the presentation, he gave detailed explanation on the panel disassembly lines and various technologies of NPC, through exchange of opinions especially on recycling technology.
EcoDesign is a symposium held every other year, for the purpose of designing environmentally conscious products and services, life cycle management, etc. It aims at integration and utilization of excellent technologies through discussion and publishment of research results by various institutions, universities and corporations.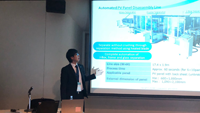 NPC attended poster session of 35th EU PVSEC.
Sep 24 - 28, 2018


NPC attended the 35th EU PVSEC held in Brussels for the Poster Session. We displayed a poster on panel recycling technology utilizing "separation method using heated blade" and case study of defects found at solar power plants. Mr. Hamada, President of KK Hamada and co-founder of PV Techno Cycle Inc., Mr. Ito, President of NPC, and Mr. Doi, President of PV Techno Cycle Inc., explained the details and obtained favourable responses from the attendants.
NPC attended WCPEC-7: World Conference on Photovoltaic Energy Conversion.
June 11 - 14, 2018


The Environmental Division manager attended WCPEC-7 held in Hawaii (June 10 - 15, 2018) for the Poster Session on 11th. He also gave a presentation on our PV panel disassembly equipment and several defects found at solar power plants on 14th.
NPC attended ECO-PV: opportunities & effects for the photovoltaic industry.
May 29, 2017


Our sales manager gave a presentation on our PV panel disassembly equipment and Japanese recycling market at the ECO-PV conference held by INES, at the Lyon-Saint Exupery Airport, France.