Automation Machines
We provide the most appropriate custom-made mechanisms or machines for each customer needs. Utilizing the designing and manufacturing technology accumulated in PV module manufacturing equipment and abundant experiences with overseas customers, we are expanding this business into a wide variety of industries.
NEW! NPC America Automation Inc.
We have opened a new production base in Michigan to enhance sales and customer support for automation machines in the US market. See webpage
Four features of our service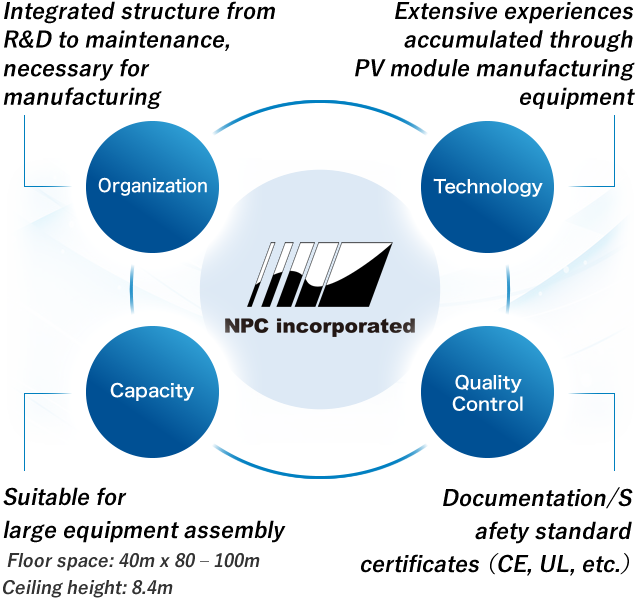 Our technology
| | |
| --- | --- |
| Bonding | Bonding by heat, ultrasonic waves, IH and other methods for various materials and environments such as conductive film and conductive paste. |
| Vacuum | Heating and laminating in various vacuum from low to high for various materials |
| Temperature control | Accurate and steady temperature control for large laminators and soldering equipment |
| Inspection/Measurement | Advice on automated machines including measurement and judgement such as quality check mechanism, by utilizing our experience in various types of testers, laser inspection and camera inspection |
| MES | Help establishing not only equipment control but also flexible management system like process monitoring system |
| Data analysis | Solutions utilizing big data analysis technology such as I-V measurement of PV system, defects inspection |
| Transfer | Handling with high accuracy from thin, small work (e.g. wafer) to large glass |
Industries where we have delivered
Automobile

assembly machine for automobile parts, inflator inspection machine, air bag assembly jig, etc.

Electric, precision machine

vacuum laminator, vacuum bonding machine

Film

sheet feeding machine

Medicine

Electronic parts

Logistics
We have also delivered auto transfer line and sorting line.
Compliance with overseas safety standards
With the shipment of PV module manufacturing equipment to over 50 countries, we have extensive experience in complying with major standards and directives.
Region

Major standard/directive

Standard No.

EU
CE

EN ISO 12100 Safety of machinery -- General principles for design
EN ISO 13849-1 Safety of machinery -- Safety-related parts of control systems
EN ISO 13850 Safety of machinery – Emergency stop
EN ISO 13857 Safety of machinery –Safety distances to prevent hazard zones being reached by upper and lower limbs
EN ISO 14120 Safety of machinery - Guards -- General requirements for the design and construction of fixed and movable guards
EN ISO 60204-1 Safety of machinery – Electrical requirement of machines

North America

NEC

NFPA 70 National Electrical Code
NFPA 79 Electrical Standard for Industrial Machinery
ANSI RIA R15.06 Industrial Robots And Robot Systems - Safety Requirements

Canada

CSA

CSA Z431 Basic and safety principles for man-machine interface, marking and identification
CSA Z432 Safeguarding of Machinery
CSA Z434 General requirements on safety for Industrial robots and robot systems
CSA C22.1 Safety Standard for Electrical Installations

Semiconductor

SEMI

SEMI S2 Environmental, Health, and Safety Guideline for Semiconductor Manufacturing Equipment
SEMI S10 Safety Guideline for Risk Assessment and Risk Evaluation Process
SEMI S22 Safety Guideline for the Electrical Design of Semiconductor Manufacturing Equipment
SEMI S1 Safety Guideline for Equipment Safety Labels
SEMI S8 Safety Guidelines for Ergonomics Engineering of Semiconductor Manufacturing Equipment
Factory Space to Rent ( Temporarilyunavailable)
About Products and Services
+81-3-5817-8830