Solar Panel Inspection Machine
"DC Fault Tester" DC Safety Inspection Device For Solar Panels
Identifies defect position instantly- contributes to saving inspection time
*BPD: bypass diode
Manufactured by Shin-ei Electronic Measuring Co., Ltd.
Features of DC Fault Tester
4 measurement devices are integrated in 1 body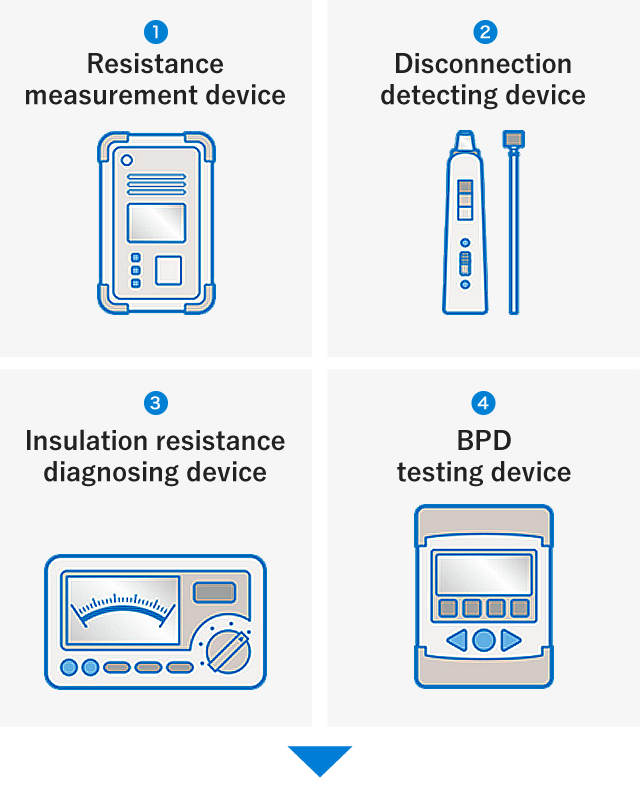 Full of merits by integration

Small and light
Convenient for mobility
Easy handling at work
Great cost performance – reducing management cost such as calibration
*1)DCFT identifies defective panels in a string, not disconnected points of each panel.
*2)DCFT checks insulation by measuring ground resistance for protecting the device and securing safety of operators.
Identifies defective panels
DCFT measures 1)by string 2)by panel.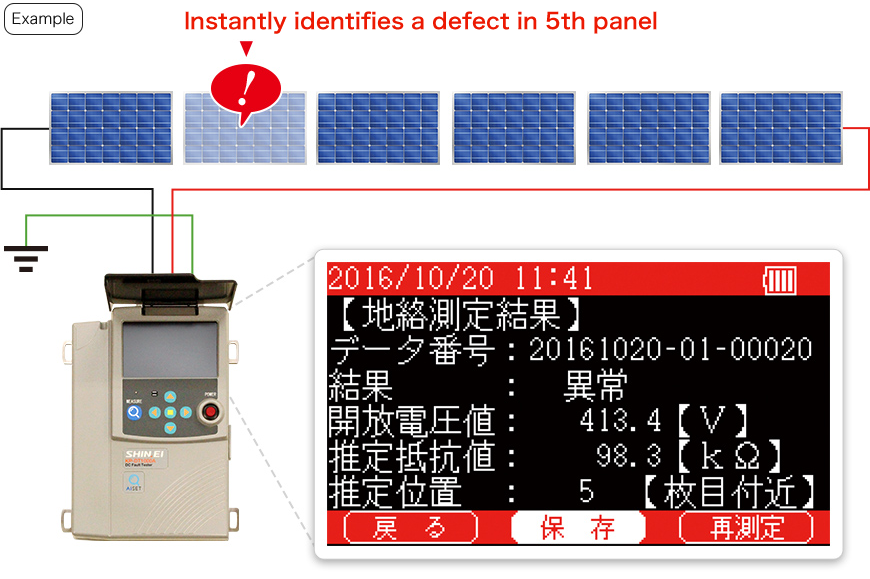 No need to measure panels one by one thanks to checking between P-N-GND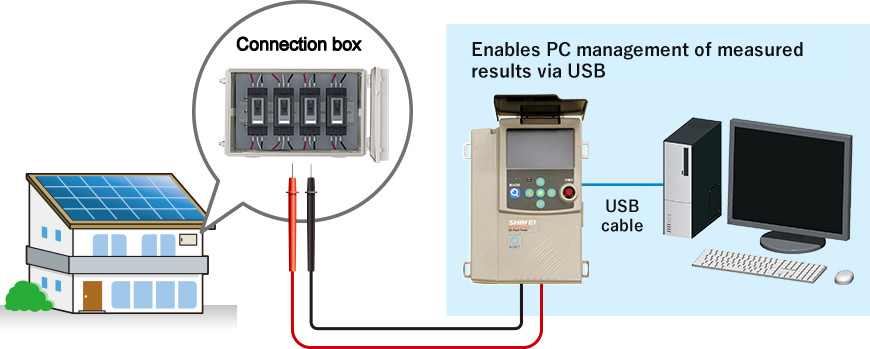 Automatically issues reports by NPC's unique calculation software*

*Option
Comes with a stylish, strong hard case
| | |
| --- | --- |
| Accessories like cables can be stored in the upper lid | |
Identifies position of defects easily in various measurement modes
Automatic measurement by pressing button

Inspection not affected by weather conditions

High accuracy enables inspection on a cloudy day or in the evening

*Only BPD should be diagnosed at night or without light
Other feature
Useful for many types of solar systems from large power plants to residential systems
Specifications
Device body
Display
Color TFT-LCD 4.3
Size
(W)x(H)x(D)
166mm x 265mm x 69.5mm

(excluding projection)

Weight
Approx. 2.0kg (with batteries)
Utility
AA battery x4
Operating time
Approx. 5 hours
Inner memory
2,000 data*
Data output
USB2.0
Accessory
Cable for daily check only, USB cable, measurement probe x3 (black/red x 1, green x1), carrying case, shoulder strap, AA battery x4, calibration certificate
*2 data will be stored by 1 measurement when grounding + disconnection measured
Measurement
Measurement items
Voc
Grounding resistance
Series resistance

BPD Forward voltage

Measurement condition
Daytime (recommended irradiance: >100W/m2)
Night (recommended Voc: <20V)
Measurement unit
Panel, string

Range of measurement

DC0.1V~1,000.0V
50kΩ~2,000kΩ
1Ω~1,000Ω
DC0.1V~69.9V

Range of detection

-

Up to 25 series connection

Up to 20 series connection (PN type)
UP to 25 series connection (short key type)

Accuracy of detection

-

±10% of measured panels/strings
※Input of panel Voc and number of series connection is necessary for inspection.
※Measured results may not be correct if there are plural defects or long cables are used.
Solar Panel Reuse/Recycling
PV Panel Inspection Machine and Others
Solar Power Plant Inspection Service
About Products and Services
+81-3-5817-8830