Solar Panel Inspection Machine
"EPTiF" On-site EL/PL Inspection Machine
This product is available only in Japan.
Quality inspection of solar panels at manufacturers' level at solar power plant during daytime!
| | |
| --- | --- |
| "EPTiF (EL/PL Test in Field)" enables you to check invisible conditions of installed solar panels during daytime by EL and PL inspections, which are adopted by a number of solar panel manufacturers, without detaching solar panels. Irradiance-independent and steady results can be obtained. This is the first in the industry. | |
Visualizes invisible condition of installed solar panels

Developed by Institute for Photovoltaics, University of Stuttgart
Provided by Solarzentrum Stuttgart GmbH

See EPTiF video and how actual solar panels are inspected at a solar plant.
1 min. 45 sec. subtitle: Japanese
Features of EPTiF
Quality inspection adopted by panel manufacturers available on site without detaching panels

EL and PL inspections available on site without a dark room facility or a laser light source

Inspects under almost all sunlight conditions from cloudy to sunny weather

Displays the results with clear images

Automatically detects defects by our original image analysis

Inspects every type of solar system from residential to utility-scale

Detects even signs of defects

Prevents or immediately stops power loss or accidents caused by defects

Indoor and outdoor inspections available such as acceptance test before installation, panel inspection during completion inspection, etc.

Suitable for investigations on power loss, inspections after typhoon, heavy snow, etc.
Inspection Principle of EPTiF
Principle of EL Inspection

Electric current is applied to solar panels so that they will emit light at a certain frequency. The emitted light is captured by IR camera and then visualized.
If there are any defects in crystals or electrodes, luminescence intensity decreases. This phenomenon is utilized for imaging invisible defects such as degradation caused by PID, cracks, etc.

Principle of PL Inspection

Solar panels generate electric power and at the same time emit light after absorbing light. In PL inspection, laser light is irradiated onto solar cells and the emitted light is captured to evaluate degradation or homogeneity of cells.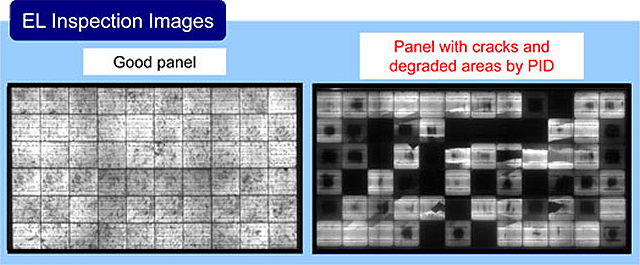 EPTiF System Configuration
EPTiF comprises of signal input box, camera, and PC.
Unlike the conventional EL inspection method, EPTiF inputs a specifically modulated power signals into the panels (string). The camera then locks onto the input signals and extracts them from the background radiation, thus calculating the luminescence image. Therefore, it requires no dark room facility. In PL inspection, it uses sunlight as a light source so that no laser is required. Also, inspection by panels or strings is possible, not only by cells.
Inspection Flow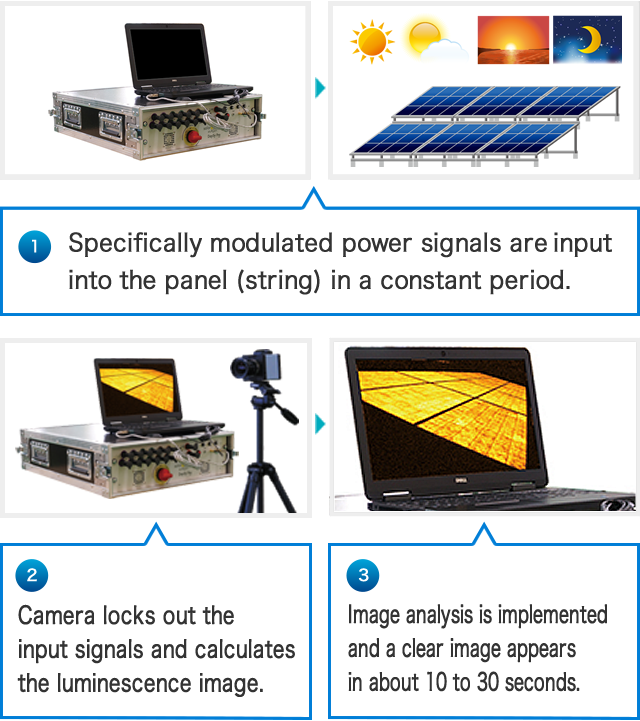 *Output signals that have frequency different from that of input signals are regarded as noise and removed so that illumination with the same frequency as that of input signals only can be visualized.
Line-up
We provide 3 models to meet customers' various needs.
NEP-S
Single panel type
NEP-I
Industrial system type
NEP-R
Residential system type
Panel type
Mono-/Poly-crystalline panels and strings, CIS panels and strings (filters are necessary), HIT panels and strings
Detection
Inactive cell area, cracks, defective soldering, degradation by PID, broken fingers, etc.
Number of panels inspected at a time
1 panel
(DC120V/10A)
1 solar string
(DC1000V/15A)
1 solar string
(DC250V/10A)
Camera
InGaAs camera
Resolution: 320x256 pixels
(non-waterproof)
InGaAs camera
Resolution: 320x256 pixles (waterproof)
Imaging time
Approx. 10 to 30 sec/1 shooting
System component
Signal input box (w/protection case), camera, PC
Power
source
For EL
excitation
AC100V 50/60Hz 2500W
Supplied by power-generating strings
(option: DC1000V/10A+10kW generator)
AC100V 50/60Hz 2500W
For control circuit
AC100V 50/60Hz 500W
Warranty
1 year
Note) "HIT" is a trademark of Panasonic Group.
NPC original maintenance service
We not only sell or lease EPTiF but also provide our own maintenance services using EPTiF.
Solar Panel Reuse/Recycling
PV Panel Inspection Machine and Others
Solar Power Plant Inspection Service
About Products and Services
+81-3-5817-8830