Solar Power Plant Inspection Service
DC Power Output Analysis Service
We will detect decrease in power output of a customer's solar power plant caused by trouble of the panels or other system components quickly, by analyzing the monitored data.
Monitoring systems are widely used for operating and management of solar power plants to check the changes in AC power output, which varies according to the weather and temperature. However, it is very difficult to identify the cause of the decline of power output.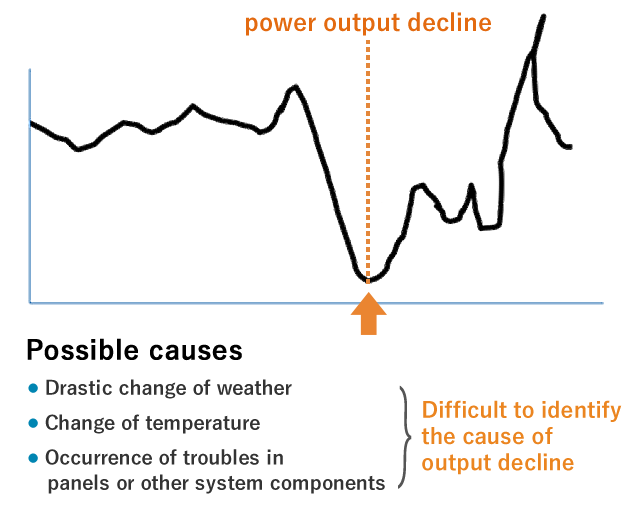 We focused on this problem and developed the engine to analyze DC power output, that is, output of solar panels. This engine incorporates highly accurate filtering function so that unnecessary dispersion caused by drastic change of weather or temperature will be deleted. By extracting the data only proportional to the irradiance, the engine analyzes the cause of power decline and provides easy-to-understand reports.
This service helps you understand whether on-site inspections are necessary or not.
Features
Prevents loss of power to sell
Detects troubles of solar system by evaluating PR where data of drastic weather changes are deleted
Reduces cost on inspections
Checks performance of solar systems at annual inspection/completion inspection
Helps understand maintenance timing
Predicts degradation by aging
Solar Panel Reuse/Recycling
PV Panel Inspection Machine and Others
Solar Power Plant Inspection Service
About Products and Services
+81-3-5817-8830