PV Panel Recycling Service
Launch of intermediate processing for recycling
We started providing intermediate processing service to recycle unnecessary PV panels in July, 2019. At Matsuyama Factory in Ehime, Japan, a PV panel disassembly line has been installed. The line separates glass without crushing from other materials, by the "separation method using heated blade," our own development. It is very difficult to recycle glass if metals mix with it. Our method enables an efficient recycling as no metals exist on the separated glass. When you need to discard panels, use our service in the Shikoku area.
What is the separation method using a heated blade?
In this method, a blade heated to 300℃ melts EVA layer to separate glass from other materials.
We have achieved the total recycling of glass and metals by utilizing our knowledge and technology accumulated through the development, manufacture and sales of PV module manufacturing equipment. This method is highly evaluated as an effective and economical processing method in the industry.
In discarding PV panels, proper processing is required, as they include toxic materials like lead.
Cycle time

60 seconds

Panels to be processed

Crystalline panels with back sheet

Panel size

Minimum:600 x 1,000 mm
Maximum:1,090 x 2,100 mm
Respective equipment and disassembly process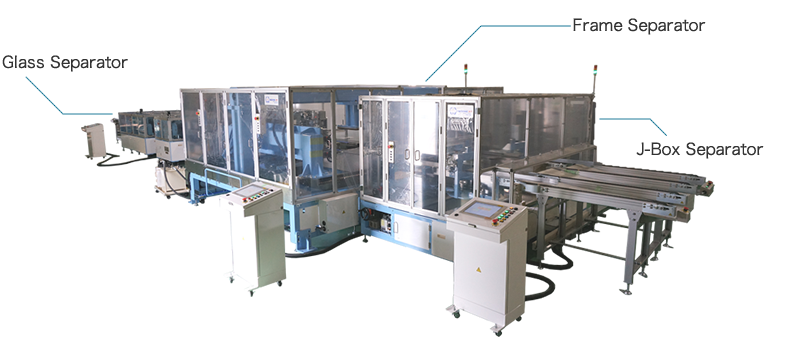 | | | |
| --- | --- | --- |
| J-Box Separator | Frame Separator | Glass Separator |
Establishing the structure for proper recycling of PV panels
| | |
| --- | --- |
| | We have been striving to establish the structure for proper recycling of PV panels. Through the structure, we will aim at creating a circular society of solar power generation. |
About Products and Services
+81-3-5817-8830